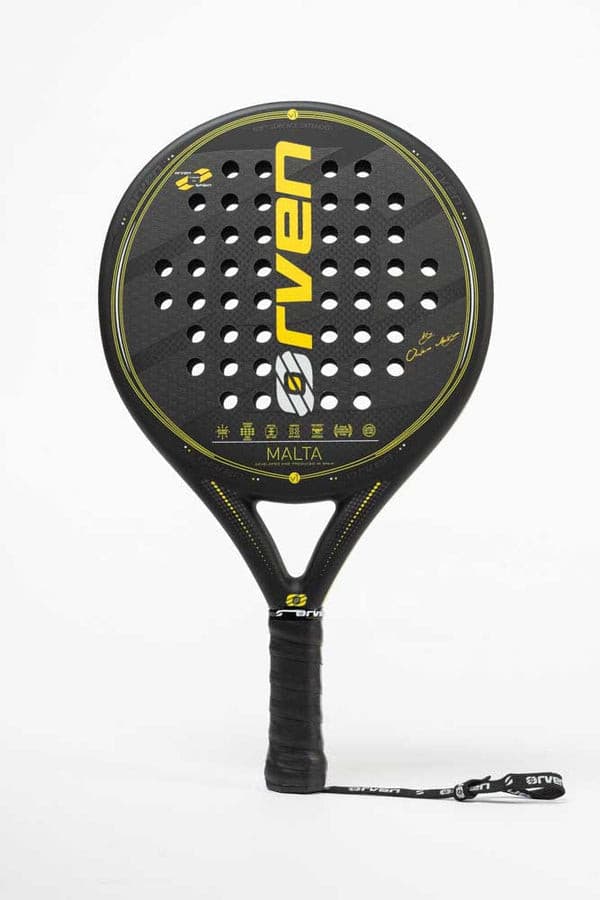 Orven Malta V1 Padel Racket
---
The Orven Malta V1 padel racket is created by Orven Sport for players looking for power and control of the ball, achieving a spectacular punch. The versatile padel racket par excellence.

The Orven Malta V1 padel racket is the younger sister of the Vulcano V2 padel racket with a round mould. With the highest quality materials we have achieved an impressive racket that will surely delight the most demanding players. All Orven Sport paddle tennis rackets are 100% Made in Spain.
COMPOSITION
The ORVEN MALTA V1 racket is made with top quality materials. The frame of this model is made of a fiberglass tubular, reinforced with Kevlar and Carbon in the bridges, which will give us great consistency in shots in order to achieve a much higher quality game. The faces are created with Carbon Plain 6K and high elasticity fiberglass, providing incredible output to the ball. The core of the racket is made of Eva SOFT rubber, achieving an impressive touch, hit memory and great control.
DESIGN
The aesthetics of the ORVEN MALTA V1 racket is based on an unmistakable style, hiding under its colors and design a claw that will leave you surprised. We take care of all the details and that makes us different.
CHARACTERISTICS
Weight 350 / 375g
Fiberglass frame reinforced with kevlar and carbon on the bridges
38mm profile
Matte finish
circular figure
low balance
Smooth 6K carbon and high-stretch fiberglass
SOFT rubber eva
Control 80% / Power 90%
TYPE OF PLAYERS
The Orven Malta V1 padel racket is developed for players looking for more power, without losing comfort and control.
SHIPMENT
Delivery times in Spain they are 24h (until 2:00 p.m.) to 48h (from 2:00 p.m. ) labor . Unless products out of stock are purchased and the term would be considerably increased, in any case the customer will be notified.