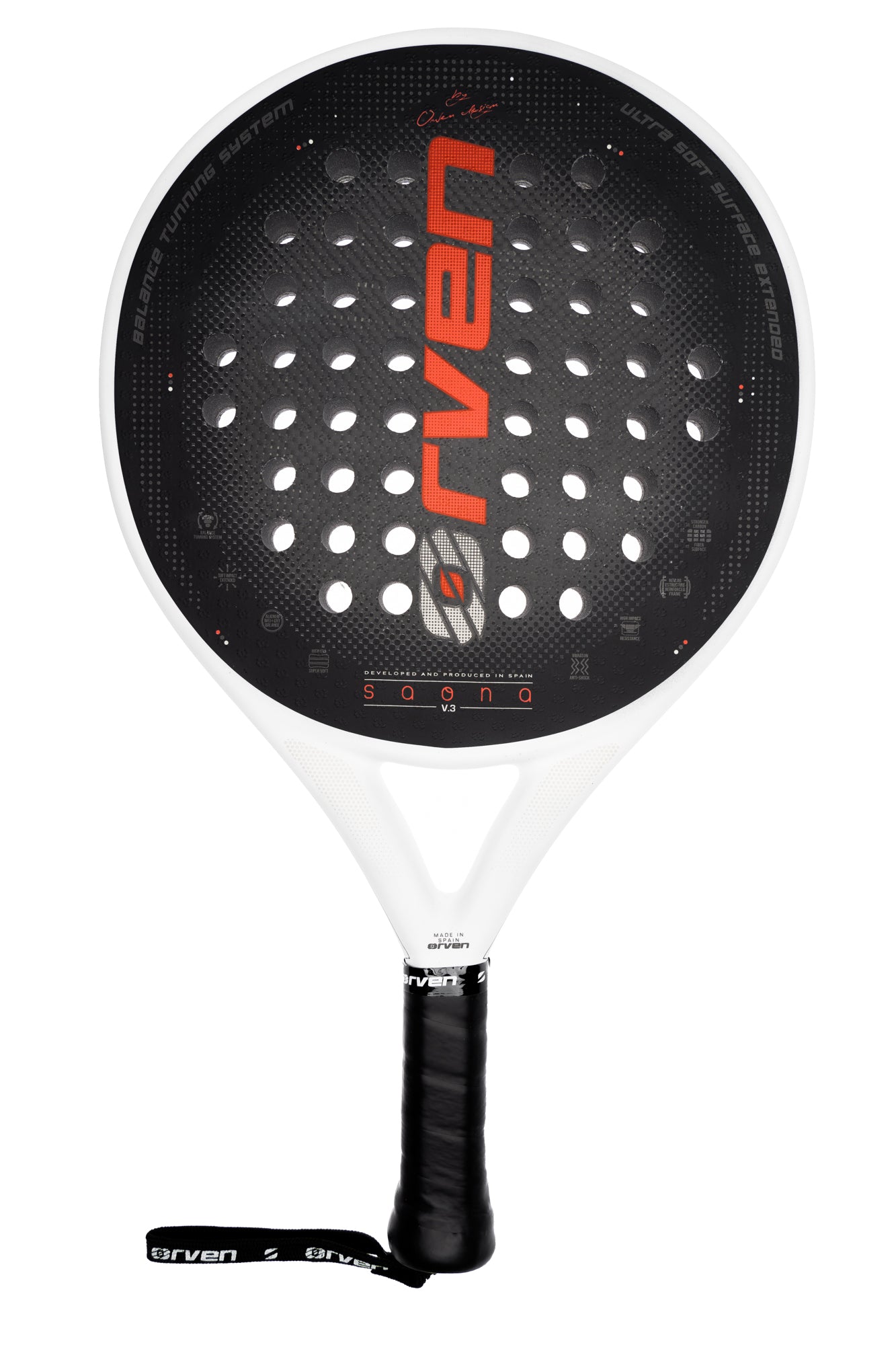 ORVEN SAONA V3 PADEL RACKET
---
DESCRIPTION:
The Saona Padel Racket. Orven Sport creates the quintessential control racket, combined with high-reaction super soft Eva rubber, perfect not only for hitting control but also for being able to overpower the ball's output without making a great impact with a lot of force. Perfect for players with elbow discomfort due to its high absorption capacity and for those players who want to take the ball to the desired place, being able to risk more in their hitting. A recommended racket for players of all levels.
COMPOSITION :
The frame of this model is made of a fiberglass tubular reinforced with Kevlar and carbon in the bridges, which will give us great consistency in shots in order to achieve a much higher quality game. The planes are created with 3K Carbon Plain and high elasticity fiberglass to provide incredible ball feel with impressive precision shots.
TYPE OF PLAYERS:
The ORVEN SAONA racket is created for players of all levels, from Amateur to Professional, who are looking for a game with a lot of control, achieving a defined style and precise technique.
CHARACTERISTICS:
Weight: 350-375g

Frame: Kevlar and carbon on the bridges
Profile: 38mm
Finish: Matte
Shape: Round
Balance : Low
Surfaces : Rough, 1 layer of 3K Carbon and 2 layers of highly elastic fiberglass
Rubber : super soft EVA.
Control : 100%
Power : 85%
Our Advance Series Range:
Orven Sport, has worked to be able to make a range of high performance rackets within the reach of all types of players, with its line of Power, Versatility and Control rackets. In carbon seen with one of the best resistances on the market at the best price-quality reference.
Why are our padel rackets special?
All the designs of our rackets are from our design team, in which they use the range of colors that combine with our textile lines.
All our designs are with a matte finish since it is the type of finish that provides the best conditions in the different hits of the ball in the game, which means that the ball does not skid or slip on the racket.
Our PRO SERIES and ADVANCED SERIES lines have a rough honeycomb surface customized with our high-resistance logo to help players with the spin of their shots.
Why choose an Orven Padel Racket?
All our rackets are 100% made in Spain.
Our manufacturing processes are completely manual, controlling the balance and weights of all the models so that their performance is always the same within each of the models.
Our blades never go on the market with more than a period of 3 months from their manufacture, which makes us able to give the customer a material with the same characteristics whatever the time of purchase.
All our rubbers are pre-cut by laser, in all models in order to guarantee the consistency and firmness of the racket. And making our frames always have the specific thickness to achieve the perfect structural resistance.